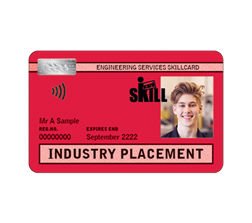 The SKILLcard Industry Placement Card has been designed to recognise students on T levels and qualification programmes requiring longer periods of high-quality work experience placements. It can also help learners compete successfully for apprenticeships after gaining meaningful experience in the work environment.
The card identifies the holder as taking part in an unpaid work placement in the building engineering services industry and allows them access to CSCS-controlled sites, with their designated employer, to gain on-site work experience.
Scope of T Levels covered:
Building Services Engineering for Construction T Levels for our sector is about choosing a 'core plus option'.
Options to specialise are currently (for BSE sector):
heating engineering and ventilation
plumbing and heating engineering
refrigeration engineering and air conditioning engineering
Card Requirements
Be aged 16 or above.
Registered onto a further or higher education qualification or training programme that is not categorised as being 'occupational competence' and requires a minimum of 30 days' work placement. The qualification being undertaken should be recognised as providing a pathway into construction and the built environment via an approved Apprenticeship, registration onto an approved occupational competence qualification such as an N/SVQ or is eligible for a CSCS logoed Academically Qualified Persons (AQP) card.
Short work experience initiatives such as the two-week statutory school curriculum requirement are not in scope.
Successfully pass the BESA Academy Health and Safety Environment Test or one of the equivalent tests offered by CITB.
Cost of the card is £40 (exc vat) payment to be determined by training provider, employer, student.
The Industry Placement card will be valid for three years and is not renewable.
Eligible Qualification and Training Programmes
What types of qualification programmes require industry placements of 30 days or more?
Examples of qualification and training programmes requiring a minimum of 30 days' work placement include T Levels, Traineeships, Foundation and Progression Qualifications (Wales), Sandwich Degrees.
What are T Levels?
T Levels are an alternative to A levels, apprenticeships and other 16 to 19 courses. Equivalent to 3 A levels, a T Level is a two-year programme that focuses on vocational skills and can help students into skilled employment, higher study or apprenticeships. They also include a minimum 45-day work placement. Detailed information can be found at: T Levels | The Next Level Qualification
What are Traineeships?
A traineeship is a course with work experience that gets you ready for work or an apprenticeship. It can last from 6 weeks up to 1 year, though most traineeships last for less than 6 months. Detailed information can be found at: Find a traineeship.
What is a Sandwich degree?
A Sandwich Degree is an academic degree course involving practical work placement.
Are the Department of Work and Pensions (DWP) work experience initiatives applicable?
The short DWP work experience initiatives are not relevant to this card as they are not linked to any national
qualification programme initiative such as T levels or Traineeships.
What card will learners on the Department of Work and Pensions (DWP) work experience initiatives need?
Learners on short work experience initiatives, such as those offered by the DWP do not require any card. In these instances, it is the employer responsibility to ensure the learners are inducted, always supervised and kept safe.
Apply for an Industry Placement Card.